Building with cardboard boxes
How to Build a Playhouse With Spare Cardboard Boxes
October 9, 2019 – 06:23 am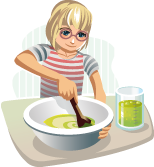 Like the original Wendy House prop in the stage play, this one is easy and quick to erect.
You Will Need
Corrugated cardboard in a variety of sizes. While you don't need a major appliance box, try to find some fairly large pieces (or boxes that flatten out large).
Cardboard tubes. These are useful for adding strength. Look for something stronger than a paper towel or gift-wrap tube (suggestions below). If you can't find them, you can make rolls from some of the other flat cardboard.
Cutting knife or box cutter such as a Stanley knife. Make sure it's robust and sharp. Caution: only adults should handle the knife and do the cutting.
Tape. It's good to match the color of your cardboard if possible. I'd recommend a good-quality packing tape or tape that you might repair a pipe with.
Marker pens to start your children off with the decoration.
Pens, pencils, paints, sticky notes, etc. Anything else that you might use for decoration. Glitter? I'd avoid that, I'm still picking bits out of the carpet from a previous project.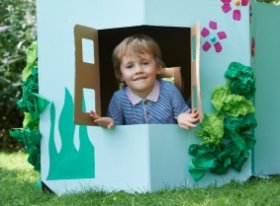 Preparation Time
The only real preparation required is to find enough cardboard and tubes to make your house. It all comes down to the speed of the scavenging!
Activity Time
It'll take about an hour to assemble your house. Thereafter the decoration and play is endless.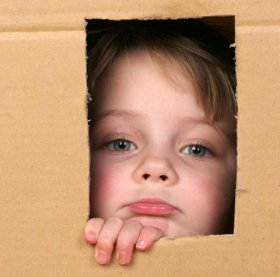 Location
Anywhere you like, as long as it's dry. You'll need a bit of space depending on the size of house you create. If you make your cardboard house indoors, intending to take it outside when it's complete, bear in mind the width of the doors to your house (the real one)! The playhouse may not fit through.
So gather your equipment, clear some floor space and let's get going. First, you need to find cardboard, and lots of it!
#1: Scavenge for Cardboard
Corrugated cardboard is the ideal material for your fort. It's easy to cut, fold, stick, draw on and decorate. Cardboard is also free (or very cheap) and readily available. Using cardboard to make a playhouse is a great way to recycle.
" alt="Printer-Friendly" />
Source: www.mykidsadventures.com
You might also like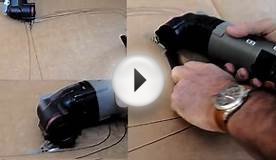 Turn Cardboard Boxes into Fun with the Sonicrafter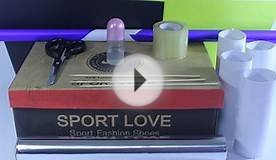 How to Build a Castle out of Cardboard Boxes
The Vault: 18 project plans for building with Cardboard


Book (Mr. McGroovy's)




Uses Mr. McGroovy s Cardboard Rivets - Rivets are not included
Each plan includes step-by-step instructions
Each plan includes a color drawing of the finish project painted
Plans require large refrigerator or washer boxes and moving boxes. Boxes not included.
Small children will require an adult s help to punch holes for rivets and cut the cardboard.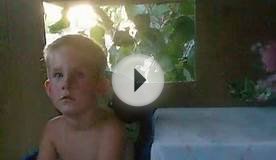 Grandma & Tyler building Cardboard Box Playhouse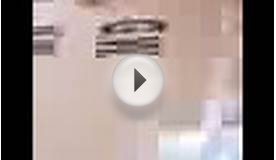 How to build doghouse with cardboard boxes boxes
Popular Q&A
Paper Build A Cardboard Box
Now, take the item off the cardboard and flip the cardboard over onto its other side. Fold along the cut lines and see how easily and perfectly it bends and forms the four corners of the box!
Place the item inside the box and fold shut. I wait to tape after I fix the sides, but for your first box it can be easier to tape the box now, where the edges meet from top to bottom.
Related Posts