Custom Printed cardboard boxes
5 Ways to Improve your Brand with Custom Boxes
April 11, 2021 – 07:21 am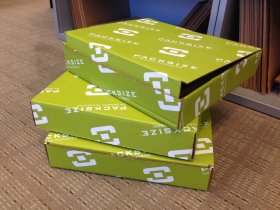 Let's be real for a moment here—is there anything more bland than a brown cardboard box? You might feel some excitement when you see one on your doorstep, but that's often because you have no idea what's inside it. It could be socks from a friend, a cheap marketing gimmick from a bank or car dealership, or a postal service error. We live in a world where a $1, 000 dress and a $2 pair of used flip flops are delivered in the same boxes.
Why are companies continuing to send out boxes with absolutely zero personality? A box is more than something to store your items in—it's a blank canvas to express your brand!
With that said, here are five ways you can better express your brand with custom boxes. Some are printed solutions, others are innovative solutions to package your goods.

This is an option that quite a few Packsize customers opt for. With random repeat printing, the corrugated cardboard is printed with your branding before it's cut into boxes. This allows all of the box's faces to be completely covered by your logos and colors, and requires a minimum amount of work on your company's part.
One creative way that some of our customers use random repeat print is they put it on the inside of the box.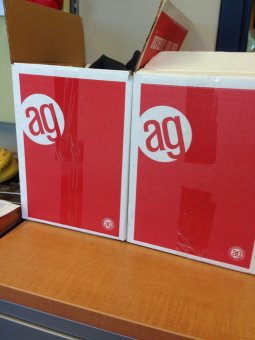 It creates a pretty unique opening experience—the customer thinks they've received a boring brown box, and then they open it and… BOOM, branding!
If a shipping box is something you've never thought about as a branding opportunity, chances are custom printed tape is pretty far off of your radar. That's a shame, since custom printed tape is easy to order and to use. The great thing about custom tape is that it can quickly turn any box into a branded box. The custom tape you see pictured above has a QR code that takes you to our website.
3. Registered Print
Registered print is added to a box after it's been cut to show specific branding on special locations on the box. These boxes from AlphaGraphics show their icon printed on red on two of the sides (pictured), and the logo printed on white on the other two sides. On the top, customers will read "increase your reach" right before they open the box. This type of printing is useful if you want your customers to see particular messages on certain parts of the box.
4. A Good Opening Experience
So far we've been talking about appearance of the box itself, but the experience someone has when opening a box can leave just as powerful an impression. Few companies are as good at providing this experience as Apple. Their multi-step unboxing process has been well-documented in the media and on YouTube as some of the best packaging in the industry.
You might also like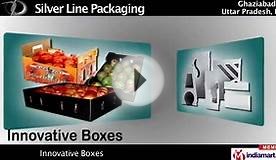 Printed Corrugated Boxes by Silver Oak Packaging, Ghaziabad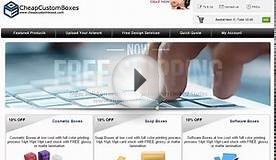 Custom Printed Boxes l Custom Box Printing
Vintage Stationery Box


Baby Product (Figments Studio)




Inspired by a mail slot in an old front door, this keepsake box is embossed with a leather-like feel.
This Stationery Box includes 20 antique gold colored writing sheets, 20 envelopes and 20 adhesive stickers reminiscent of a wax seal.
Stationery Box construction is embossed printed paper over sturdy cardboard.
Size: 10 x 5 x 2 ; Weight: 15.2 ounces
See all Figments Studio stationery, journals and desk top accessories
Related Posts