Pirate ship cardboard box
MollyMooCrafts DIY Cardboard Pirate Ship
December 13, 2015 – 11:22 pm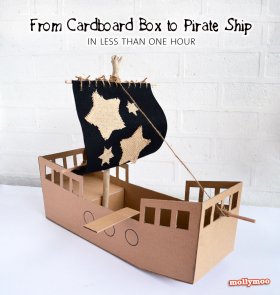 DIY Cardboard Pirate Ship
Inspired by a recent trip to the cinema to see the latest Tinkerbell & The Pirate Fairy story I decided to make – a ship that was possible to make within one hour, with no papier mache or painting…… and this is how it turned out!
-
-
All you need to replicate is:
Cardboard box
Glue gun
Ruler, pencil and black marker
Craft Knife
Twine
Twigs for the mast and horizontal spreaders (the sticks that hold the sail)
Fabric for the sail
How to make a Cardboard Pirate Ship
First draw one side of the ship on a flat piece of cardboard – I kept my shape quite 'boxy' so as to give it a good solid resilient base to sit on while Miss7 was pushing it around the floor, on the many adventures to come – and selfishly to avoid having to curve the cardboard base around any tricky corners.
-
-
This is a plan of what pieces you need to make your pirate ship – two sides, a back and a base.
-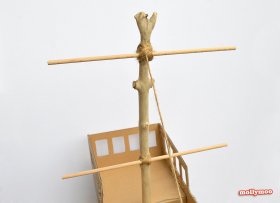 -
Start by gluing the back piece onto the sides. The joy of using a glue gun is that everything is locked together in a matter of seconds.
-
-
Next glue on the base by running your glue gun up along each side.
-
-
Continue gluing the base piece right up to the front of the boat. If you score the base along where the base meets the front so you get a nice straight edge at the front of your ship.
-
Now you have your solid ships hull.
Fitting out your ship
For this stage you need an L-shaped piece of cardboard, a strong stick for the mast and a piece of styrofoam to hold the mast in position.
-
-
Glue the L-shaped card inside the back of the boat for the cabin – the 'poop deck' as it's fondly called among seafaring folk :) (I will never let my husband read this post – he's a sailor and all the non-boaty terms would have him out in hives!!)
Glue the piece of styrofoam to the base of the ship up against the 'poop deck' and glue the mast/stick into the hole and for extra resilience glue the back of the stick to the poop deck too.
-
-
Glue two smaller horizontal spreader sticks to the mast to hold the sail.
For authenticity and strength I wrapped some twine around the joints.
-
-
Nearly there…..
For the sail I used a square of black felt and glued on some burlap stars – you can of course add whatever sail design you desire – the conventional skull and crossbones, stripes or better still give your little one(s) some paint markers and let them design the sail.
Source: mollymoocrafts.com
You might also like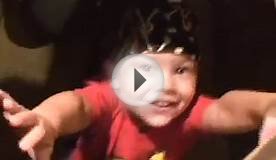 DIY Refrigerator Box Pirate Ship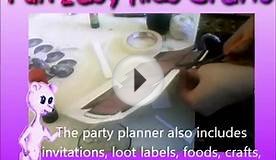 Make a cardboard Pirate treasure chest loot box
My Very Own House Pirate Ship


Toy (My Very Own House)




Bio-degradable, eco-friendly materials that are formaldehyde-free and completely recyclable
Set includes 8 Jumbo, washable markers. Includes 2 swords. steering wheel and door.
Constructed of sturdy cardboard, the partially assembled ship folds up and down easily.
Material: Cardboard. Size: Medium. Color: White. Item Weight: 5 lbs. Age: 3 years and up
Product Dimensions: 28 Lx 65 Wx 50 H, Made in USA.
Pirate Ship - Markers Included


Toy (Box Creations)




includes 4 markers for decorating
double lock tabs for extra stability and strength
folds down for easy storage
no sharp edges
strong 32ECT board for extra durability
12" Treasure Chest


Office Product (Century Novelty)




12 Pirate Chest
Makes great Pirate Party Prop and Decorations
Fill full of plastic gold coins or our pirate jewels
Made of cardstock
Ships flat and requires basic assembly

Johnny Depp Hot Sexy Leather 003 13x19 POSTER


Home




Professional Qaulity 13 x19 Poster
Borderless, Thick, Premium Glossy Paper
Wrapped in protective paper and Place between Sturdy Cardboard
Ships flat to avoid curling, Marked Do not Bend, Fragile and Careful with Edges
FREE FAST SHIPPING FROM CENTRYPOSTERS!

6 Pirate Ship Cardboard Food Lunch or Treat Boxes | Kids Party Tuck Boxes


Art and Craft Supply (Crafty Capers)




Card lunch boxes for kids pirate themed parties.
A great alternative to party tableware, with less washing up too!
Pack of 6.
Assembled box measures approximately 15x10x10cm, plus the flag on top.
Related Posts