Custom Printed Packaging Tape
Printed Packaging Tape Delivers Your Message!
June 4, 2015 – 10:35 am
The printed tape division of Plus Packaging, Inc. specializes in custom printed tape, packaging tape, sealing tape, wrapping tape, pouches for packing lists, tamper resistant and air-freight printed tape.
is available in small to large quantities with both stock and custom printed messages. Distinguish your business or organization from all the rest!
printed tape is used for:
Tamper-Evident Kraft Gummed Carton Sealing Tape - Tape cannot be removed without detection; the top Kraft layer immediately separates from the red bottom sheet. Protects and secures shipments. Water-activated adhesive. Use Kraft fiberglass reinforced gummed tape with our tape dispensers. Manual Tape Dispensers Electric Tape Dispensers Security Carton Sealing Tape - Stands out and help ensure package integrity. If box is opened or tampered with, tape lines are nearly impossible to realign. Polypropylene film with pressure-sensitive, natural rubber adhesive adheres quickly. Printed Carton Sealing Tape - Tape is pre-printed with warning messages to protect and reduce shipping claims. Strong polypropylene film with pressure sensitive, hot melt rubber resin adhesive resists moisture, abrasion and center seam splitting. Choose from the following stock messages or create your own: "If Seal is Broken, Check Contents Before Accepting" "FRAGILE" - Handle With Care "Sealed for Your Protection" "Quality Control Inspected" "This Carton Contains Mixed Merchandise" Custom Printed Carton Sealing Tape - Draw attention to your package and alert handlers of special care needs. Personalize your packaging system with printed tapes that include your company name and information. Use printed tape and carton tape to send a message to your customers for just pennies a package. Process Printed Tape is now available for all of your high end advertising needs. Let our Plus Packaging tape printers and designers help you select from our wide variety of tapes and tape dispensers.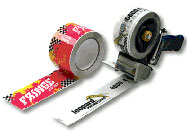 When you call the designers and tape printers at Plus Packaging for information on printed tape and packaging tape tape, they will help you specify which custom printed tape would be the perfect application for your needs. There are, however, some questions we'll need to ask so you might consider the following beforehand to make the process easier:
Type of printed tape Size of printed tape (Width x Length) Thickness of printed tape or
carton tape
(Mil) Quantity Film Color Number of Print Colors Camera ready artwork available Deadline for delivery
The types and sizes of printed tape available are extensive and we strongly encourage you to speak to a customer service representative.
Thank you for visiting our site and for your interest in Plus Packaging, Inc. We look forward to helping you.
Source: www.pluspackaging.com
You might also like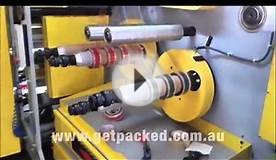 Printed Tape | Custom printed Tape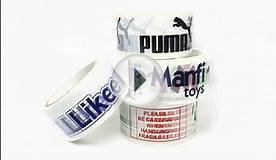 Custom Printed Tape,Logo Tape, Parcel Tape - www.brandtape ...
JVCC SLPT20 Designer Packaging Tape: 2 in. x 75 ft. (Scissor Cut)


Office Product (JVCC)




Core: 3 diameter
Backing/Carrier: polypropylene film
Application Temperature: 54F to 110F
Service/Operating Temperature: 32F to 140F
Adhesion: 48 (rubber) 22 (acrylic) ounces per inch (to stainless steel)
Tamper Evident Security Packaging Tape 2" (50 mm) x 55 yards, 3.2 Mil


Office Product (OEM)




Tape Width: 2 (50mm)
Roll Length: 165 ft (55 yards)
3.2 Mil
Quantity: 1 roll per order
Clear Acrylic Packaging Tape 1.8 mil 2" x 110 yds; 48mm x 330 ft


Office Product (OEM)




2 wide, 110 yards (48 mm x 330 ft)
1.8 mil thickness
36 rolls per case
Clear Color

Clear Hot Melt Packaging Tape 1.6 mil, 2" x 1000 yds; 48mm x 914m (6 Rolls)


Office Product (OEM)




2 wide, 1 yards (48mm x 914m)
1.6 mil thickness
6 rolls per case
Clear Color

GlueNTape 2322 SAC Acrylic General Purpose Carton Sealing Packing Tape Roll, 2.2 mil Thick, 110 yards Length x 3" Width, Clear (Case of 24)


BISS (OEM)




3 wide, 110 yards (72mm x 330 ft)
2.2 mil thickness
24 rolls per case
Clear Color
Related Posts