Film packing
About Shrink Film Differences, Terms, Uses, and More!
June 24, 2017 – 12:40 pm

Click Here To Buy Shrink Film
Shrink Film- a material made up of polymer plastic film. When heat is applied it shrinks tightly over whatever it is covering. There are a variety of uses for Shrink wrap and shrink film. Some common uses of shrink wrap are for wrapping food, gift baskets, boxes, toys, books, soaps, etc. Below is a breakdown of the two most commonly used types of shrink wrap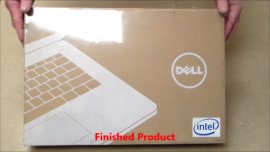 PVC Shrink Film- A type of shrink wrap used for a variety of applications. The PVC stands for Polyvinyl chloride. Polyvinyl chloride is the third most produced plastic in the world. PVC shrink wrap was the most commonly used shrink film, until replaced several years ago by polyolefin (POF) shrink wrap.
Common Uses of PVC Shrink Film- PVC shrink wrap uses include: packaging boxes, CD and DVD packaging, software, small canisters, and other non-edible items. PVC Shrink film is also works very well with automated machines.
Drawbacks of PVC Shrink Film- Sealing Strength, storage issues, and sealing by-products are common drawbacks of PVC Shrink Wrap.

The plasticizer in PVC Shrink wrap hardens in cold conditions and softens under hot conditions, therefore compromising the strength of the seal and the plastic. PVC shrink wrap also releases small quantities of hydrogen Chloride into the air and carbon deposits onto the sealer. Proper ventilation is required when sealing PVC shrink wrap.
Polyolefin Shrink Film - A type of shrink wrap that has become the preferred choice for packaging products both edible and non-edible. Polyolefin Shrink wrap is preferred for a variety of reasons including: fewer odors when sealed, stronger seal, and more flexible storage.

Polyolefin shrink films do not have any chlorine; therefore they do not produce hydrogen chloride gas. Polyolefin shrink wrap does not have any plasticizers, so temperature is not an issue. Polyolefin can be stored in a wide range of temperatures and does not harden and soften in different environments like PVC shrink film.
Common Uses of Polyolefin Shrink Film- Polyolefin shrink film is used for almost every kind of application. Applications include: toys, sporting goods, printed wrap, foods, stationary and cards just to name a few.




Source: www.uspackagingandwrapping.com
You might also like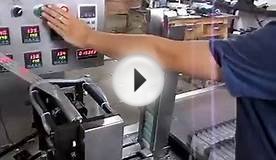 Transparent Film Packing Machine for Cigarette Box ...
Film-Granular Packing Video.wmv
HG2032000-RT Stretch-Flex Stretch Film Wrap with Extended Core Handles, 20-Inches x 1000-Feet


Home Improvement (Intertape)




Extended core handles make wrapping pallets easier
Clear Design makes it easy to view pallet or bundle contents
Secure pallet loads and more
Wrap measures 20 inches by 1 feet
Provides securing and wrapping ability in multiple situations
Duck Brand HP260 High Performance 3.1 Mil Packaging Tape with Dispenser, 1.88-Inch x 60-Yard, Crystal Clear, Single Roll (393186)


Office Product (Henkel)




High-performance tape features aggressive acrylic adhesive superior for temperature ranges.
Seals cartons for shipping and storage plus protects labels.
Crystal clear.
Comes in a reusable dispenser.
Meets U.S. postal regulations.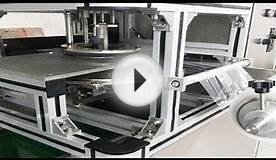 Fresh-keeping film packing machine soap plastic cosmetic ...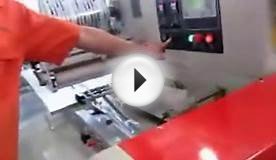 Adhesive tapes film packaging machine Automatic Cookies ...
Duck Brand Stretch Wrap, 20 Inches Wide x 1000 Feet Long, Single Roll (970700)


Office Product (Shurtech Brands LLC)




Non-adhesive plastic wrap safely secures boxes during storage or transit
Heavy 0.63mil plastic film sticks only to itself, not to objects
Stretch wrap roll comes with two convenient handles for easy application
Also perfect for keeping desk, furniture or file cabinet drawers closed in transit without taping
20-inches by 1-feet

Pratt Plus ST.I-15V.20 Polyethylene Standard Bundling Cast Stretch Wrap, 2000' Length x 15" Width x 8.1 microns Thick, Clear


BISS (Pratt Industries, Inc)




Standard bundling cast stretch wrap roll
Designed as a high performance and environmentally sensitive hand film for maximum unitization
Torque s ultra thin gauge reduces packaging material consumption and costs while its folded edges provide added strength and reduced tearing
Available in clear color
Measures 2-feet length by 15-inches width by 8.1 microns thick

Shurtape HP-200C Production-Grade Colored Packaging Tape: 2 in. x 110 yds. (Blue)


Office Product (Shurtape)




Core: 3 diameter
Backing/Carrier: 30 micron biaxially-oriented, cast polypropylene (BOPP) film
Adhesive: synthetic rubber-resin
Thickness: 1.9 mils (carrier, adhesive)
Adhesion: 44 ounces per inch (to stainless steel)
Popular Q&A
Where can i find a polaroid film pack? | Yahoo Answers
Polaroid no longer makes TimeZero films, but you can find replacement films from the Impossible project:
I have a how to load an SX-70 camera video on my youtube channel:

Related Posts