Where to Find cardboard boxes for free?
Free Cardboard Boxes: The Hunt Continues!
June 24, 2017 – 12:40 pm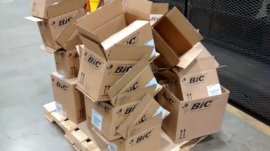 Free boxes can still be obtained.
Okay, when it comes to free cardbox hunting for moving, storage or other purposes, I'm still a bit of a hunter-gatherer at heart. The tribal quest for cardboard moving boxes used to be one of the unavoidable, and to me, most enjoyable necessities of changing locations. There was no way I was going to pay moving company prices for moving boxes. They were out there and I would find them. And invariably, I did.
Apple and Banana Boxes
Personally, my favorite places to obtain free boxes were at the supermarket. I would have the produce manager set me aside boxes what generated enough volume of the same size. At the local Safeway, the two best bets were apple boxes, which are of sturdy construction, and banana boxes.
Both come with tops, making them good for stacking prior to, and during the move. The banana boxes have an open construction that is thoughtfully designed to let the bananas ripen to eventual perfection, but unfortunately, not as strong for packing. They come with brown paper that cradles the bananas. Use that to fill the void in the bottom. At the end of the day, they are still very useful.
Of course, gathering boxes can test the patience for both benefactor and box moocher alike. Several times I would return to collect boxes, only to find out that someone on the other shift had baled the empties, or given them to someone else instead. And the fact of the matter is that as back rooms become more jammed with merchandise and staffing hours become squeezed, some locations are less likely to give out boxes.
Factor in concerns about liability or recycling recovery objectives, and it can be easier to say that it is against store policy. Having said that, there are still places out there to get them, and if you have a relationship with your produce clerk, so much the better.
So where else are good places to find free cardboard boxes?
Wine or liquor stores Liquor stores in general, and particularly wine stores, generate a lot of boxes. They are great for smaller items or books, although they do not have a top lids, only flaps.
McDonald's I have never used this source, but a number of other on-line box hunters recommend McDonald's french fry boxes as a good bet. The fries are frozen and in plastic, so once emptied, the result is a quantity of clean, same sized boxes. There is a facebook page dedicated to McDonald's fry boxes, although posts from some box seekers indicate that at least some locations do not give away their empty boxes.
Other places that generate quantities of suitable boxes. Businesses that do a lot of printing such as printing centers generate a lot of paper boxes, which come with lids and are useful for storage and moving, but the boxes are generated from many businesses, from book stores to neighborhood Starbucks. (A box hunter article in Apartment Therapy suggests just asking to set aside the larger boxes at Starbucks.)
And if you are planning ahead and are not in dire need of boxes immediately, one thing I used to do was just watch in the neighbourhood for sold signs and moving vans. On one occasion we reached agreement to take the empty boxes as the newly arriving family unpacked, and we had our boxes within a few weeks.
Source: recycling.about.com
You might also like
Container Garden Ideas - How To Find FREE Containers For ...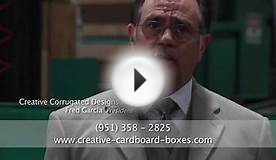 Custom Cardboard Boxes
Related Posts