Fragile packing Tape
Packing China Plates & Other Fragile Items For Moving
March 24, 2015 – 12:02 pm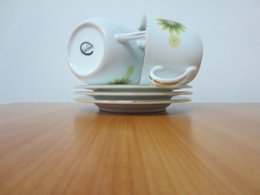 When you're moving home there are bound to be some fragile items that you want to take with you. You need to pay special attention to making sure that these items are packed correctly so that you don't arrive at your new home, only to be devastated by the fact that your belongings are now in several pieces.
All it takes to try and ensure a safe journey for any fragile items, is a little effort and thought. We are going to give you some tips about packing these items for your move.
Choosing and preparing the right box
One of most important things to remember when you're packing fragile items, is that the box shouldn't be too big. You should be able to find a box specifically designed for this purpose, which will not carry any more than 10lbs in weight. Make sure you invest in sturdy boxes, and that they are reinforced with packing tape along the seams.
What you will need to complete the packing
Once you have acquired and prepared your boxes, you will also need the following items, to successfully pack your fragile belongings:
Cushion foam or packing peanuts.
Packing tape.
Marker Pens.
Newspaper or bubble wrap.
Cardboard for dividers.
Scissors for cutting tape and cardboard.
The packing process
When you have all the items you need you can begin the packing process.
Lining the box
You should start by lining the bottom of the box with cushion foam or packing peanuts; don't scrimp on the amount you need to have a good layer of protection.
Packing plates
Plates should not be packed flat, as most people store them in cabinets. They are much stronger, and more likely to survive the journey, if they are packed on end. It's advised that each plate is wrapped in newspaper, or plain paper before packing. Plates should then be placed in the box with a layer of newspaper or bubble wrap between each one. You need to ensure that the plates are packed tightly with no room to move. Any spaces in the box should be filled with cushion foam or packing peanuts.
Packing cups and other fragile items
Each individual item should be wrapped in bubble wrap, with lids being wrapped separately. You should use cardboard dividers to separate items so that they cannot knock together in transit. Again any spare space in the box should be filled with cushion foam or packing peanuts so that the items cannot move around.
Sealing the box
Once all of the items are packed securely, you need to seal the box tightly with packing type. Don't scrimp on the amount of tape you use; it's vital that the box doesn't come open in transit.
Marking the box
Make sure that you use a marker pen to make the box fragile and write 'this way up' on the lid. You should also note what is in the box to make unpacking easier.
If you follow all of these steps then your fragile items should make it to your new address in one piece. If you have hired a removal firm to help with the move it's also a good idea to emphasise to them that there are fragile items which need to be handled with care. There are never any absolute guarantees, but you should find that your fragile belongings survive the journey and continue to be available for you to use in your new home.
Fragile - Handle with Care Shipping Labels - 2'' x 3'' , 500 Pieces / Roll © enKo Products


Office Product (enKo Products)




1 Roll of 500 Labels, 2 inches x 3 inches per label
Aggressive adhesive that is specially formulated to stick to corrugated cartons, plastic drums, steel drums and pallets
Labels come with a peel-off liner
Large red label stands out from the clutter to call attention to your fragile shipments. Ideal for glass products
2 Year Warranty & 100% Money Back Guarantee
Scotch Printed Message FRAGILE HANDLE WITH CARE Box Sealing Tape 3772 White, 48 mm x 100 m, Conveniently Packaged (Pack of 1)


Home Improvement (3M)




Printed with message FRAGILE HANDLE WITH CARE
High adhesion and holding power resists popping for a secure seal throughout the supply chain
Closes boxes securely without the holes, waste, sharp points and disposal of staples
Sealing tape resists nicks, abrasions, moisture and scuffing for long-lasting performance
Available in new convenient-sized packaging
Enhances package integrity and helps safeguard fragile contents
TapeCase SHIPLBL-040-50 Fragile, Thank You Label (50 Per Pack)


BISS (TapeCase)




Self-adheres to packages.
Width 3 In., Height 2 In. Paper Material

JVCC PP20 Printed Packaging Tape: 2 in. x 110 yds. (White with Red "FRAGILE HANDLE WITH CARE" printing)


Office Product (JVCC)




Core: 3 diameter neutral
Backing/Carrier: polypropylene film
Adhesive: water based acrylic
Thickness: 2 mils (carrier, adhesive)

Printed Message Fragile Handle with Care Box Sealing Tape Packaging Tape 330 Feet (110 Yards)


Office Product (SKTN)




Printed with message FRAGILE HANDLE WITH CARE
Multi-purpose, heavy duty, premium quality white tape with red lettering
Standard size roll fits any hand-held dispenser
Width: 2 inch, Length per roll: 3,937 inch
White / Red
Popular Q&A
How fragile materials packed?
Fragile materials such as glass and other "breakables" are generally stored with shock absorbent materials such as Styrofoam and cardboard paper etc.
Other materials that are chemically unstable such as liquid nitrogen, that are shipped by road.
How to Pack Fragile Stemware
If you're like me, you collect wine glasses and goblets and have a sentimental attachment to each and every one. Maybe you purchased a set in Italy after touring Tuscany or your grandmother left you her crystal goblets as a wedding present. Whatever the reason, use this step-by-step packing guide to make sure all your precious glassware makes it to their new home without any cracks or breaks. More »
Related Posts