Meat packing industry book
The University of North Carolina Press
February 24, 2016 – 08:48 am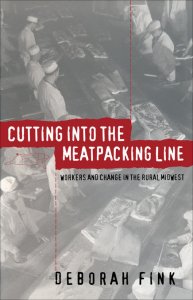 256 pp., 6.125 x 9.25, 10 illus., 1 map, 10 tables, notes, index
Studies in Rural Culture
Paper
Workers and Change in the Rural Midwest
Awards & Distinctions
1998 Benjamin F. Shambaugh Award, State Historical Society of Iowa
1998 Theodore Saloutos Memorial Award for the Best Book in Agricultural History, Center for Agricultural History and Rural Studies
A 1998 Choice Outstanding Academic Book
The nostalgic vision of a rural Midwest populated by independent family farmers hides the reality that rural wage labor has been integral to the region's development, says Deborah Fink. Focusing on the porkpacking industry in Iowa, Fink investigates the experience of the rural working class and highlights its significance in shaping the state's economic, political, and social contours.
Fink draws both on interviews and on her own firsthand experience working on the production floor of a pork-processing plant. She weaves a fascinating account of the meatpacking industry's history in Iowa-a history, she notes, that has been experienced differently by male and female, immigrant and native-born, white and black workers. Indeed, argues Fink, these differences are a key factor in the ongoing creation of the rural working class.
Other writers have denounced the new meatpacking companies for their ruthless destruction of both workers and communities. Fink sustains this criticism, which she augments with a discussion of union action, but also goes beyond it. She looks within rural midwestern culture itself to examine the class, gender, and ethnic contradictions that allowed-indeed welcomed-the meatpacking industry's development.
Reviews
"This admirable book melds history, anthropology, and a strong sense of social justice. . . . A chilling portrait of how economic restructuring reshapes everyday life and exacerbates longstanding oppressions of class, race, and gender."
-Journal of American History
"Forceful, visual, evocative, and well-placed . . . The oral histories, along with the other sources, provide an excellent historical context and comparison for what was happening in contemporary meatpacking plants in the Midwest."
-Nebraska History
"A model of American social and labor history."
-Choice
"Deploying the methodological skills of the anthropologist and the historian, Deborah Fink makes visible working-class wage earners, women and men whose historical agency and experience have been denied or effaced in the rural Midwest. Fink demonstrates the central but overlooked significance of wage labor for rural midwestern economic growth and offers an original and compelling analysis of class development and class relations. Deeply moving, her important study of working people in Perry, Iowa, evokes the horror, grimness, and humor of rural working-class life over the course of the twentieth century."
Source: www.uncpress.unc.edu
Related Posts