Paper Texture Packs
Adding fake folds to your design in a jiffy
October 10, 2016 – 12:07 am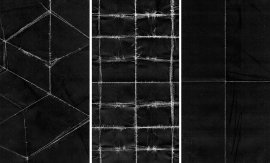 Paper Textures Tutorial: Adding fake folds to your design in a jiffy with the folded paper texture packs
Hello Zine readers! Simon from here today. I just wanted to let you know that my folded paper texture packs, and are now available on the Arsenal! I hope you enjoy this textures tutorial, teaching you to add fake folds to your designs in a jiffy with the folded paper texture packs!
What's in the packs?
Glad you asked. Each pack contains a series of 12 textures each. The textures are roughly 4740 x 6320px @ 600 dpi.
The pack is centered around folded and crumpled paper, from a simple vertical and horizontal folds all the way to crazy crumpled and over-folded paper. Check these examples below: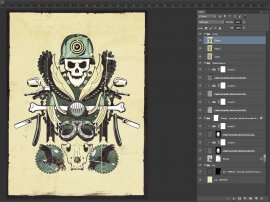 These should cover a decent chunk of your folded and crumpled paper emulation needs.
How to use these textures
Just like the photocopy noise textures I released a few weeks back, the textures are black and white, which dictates some of the workflow to follow. about blending modes I found on PhotoBlogStop gives us this information about the Screen blending mode:
Screen: Similar to the Lighten blend mode, but brighter and removes more of the dark pixels, and results in smoother transitions. Works somewhat like the Multiply blend mode, in that it multiplies the light pixels (instead of the dark pixels like the Multiply blend mode does). As an analogy, imagine the selected layer and each of the underlying layers as being 35mm slides, and each slide being placed in a separate projector (one slide for each projector), then all of the projectors are turned on and pointed at the same projector screen…this is the effect of the Screen blend mode. This is a great mode for making blacks disappear while keeping the whites, and for making glow effects.
Keeping this information in mind, here are a few ways to use the textures.
Add the texture within your layer stack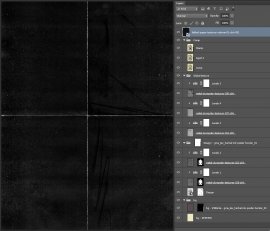 The scenario: you just want to add paper folds as the finishing touch to your print.
In order to give this piece an extra "vintage movie poster" feel, I'll simply add folded-paper-textures-volume-01-sbh-001.jpg from to the top of my layer stack.
Once that's done, simply change the blending mode to Screen, and you'll have some fake folds in your poster!
If the effect is too strong, you simply have to play with the layer's opacity slider to make the effect more or less subtle. Below is the same texture at 50% opacity instead of 100%.
The scenario: you want to use some of the more exotic textures as part of your design itself.
There are some less conventional folds in the packs. For instance, in, there's this burst-like thing (folded-paper-textures-volume-02-sbh-006.jpg):
While this might be a bit corny, I'd like to use the burst-like folds behind the design (and the silhouette in particular) to create some divine rays of some kind. Let's start by placing the texture at the bottom of my Design layer group.
Composition wise, I think it could be more interesting if the rays were coming from behind the head of the silhouette.
Now, we simply have to use the Screen blending mode to our advantage again, so we can see the background effects of the piece again.
Since the effect is still a hair too strong, I simply decided to lower the opacity of the texture layer to 25%, and we get something much more subtle.
You might also like
Minecraft Texture Packs: Paper cut out 1.8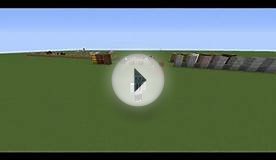 Paper Cut-Out Texture Pack para Minecraft 1.7.2
American Crafts 12-Inch by 12-Inch Cardstock Variety Pack, Black


Art and Craft Supply (American Crafts)




AC cardstock cuts flawlessly in die cutting machines
Package includes 60-sheet of black cardstock
Cardstock is heavy weight - 216 gsm
Each sheet features a weave texture and solid core
Measures 12-inch by 12-inch

Darice GX220005 Coordination Value Cardstock, 8.5 by 11-Inch, Chocolate Lovers, 50-Pack


Art and Craft Supply (Darice)




DARICE- Coordination s Collections: Premium Cardstock Chocolate Lovers
Sand it tear it emboss it LOVE it
This package contains ten sheets each of five colors of 8-1/2x11 inch smooth texture cardstock paper

Paperhues Designer Decorative Specialty Paper Pack, 18 Sheets, 8.5 By 11 Inch, Gold, Silver & Ivory Wedding Collection. 8.5x11 Inch Handmade Papers Color Coordinated in a Beautiful Pack for Wedding Decoration, Scrapbooking, Card Making, Keepsakes, Art and Craft, Decopage, Origami, Decorative Gift Wrapping, Book Covers And Craft Projects. Scrapbook Paper Pack.


Art and Craft Supply (741587491828)




Finest assortment of 18 sheets of designer decorative specialty handmade papers In Ivoy Gold And Silver, color coordinated in a beautiful Wedding Collection pack.
Ideal for a variety of creative projects like Wedding Decoration, Scrapbooking, Card Making, Art And Craft, Origami, Decopage, Decorative Gift Wrapping, Book Covers.
Includes 3 Sheets each of 6 styles 8.5 x 11 Inch. Includes 1 Sheet each of 6 styles 6 x 6 Inch
Each of these handpicked papers have a distinct texture with processes like embossing, screen printing, foiling etc giving it an opulent look.
These papers are ideal for scrapbooking, decorative gift wrapping, book covers, decopage, origami and for all other paper art. 100% Ecofriendly natural handmade...
Related Posts