Cardboard box Spaceships
Blast Off!
September 23, 2015 – 11:55 am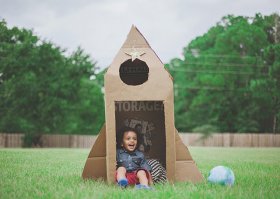 Mini space explorers have been reaching the final frontier with help from a cardboard box (the ultimate in kid-friendly building supplies), for what seems like a million light years. We bet you remember blasting off on your own adventure—set to the Star Wars theme music, of course. Let your littles get in on the fun by helping them create their very own rocket ship headed straight for the next galaxy. From an easy how-to-make-your-own tutorial to a space-themed photo booth and even a wearable rocket, scroll down to check out inspiring homemade spaceships. Blast off!
When photog mom Marie set out to do a session with her little space cowboy, she knew there was no better prop than a homemade rocket ship. This simple design takes all of 10 minutes to make and by using just one single star and a few painted planets as guides, parents can delight in the perfect place to launch a thousand imaginary missions. For more about the rocket ship sessions visit Marie Holmes Photography.
This spaceship will leave you star-struck. The bright colors pop; the gadgets and gears on the side are genius. Dumpster-diving to find the right size box for the ship might be in the cards for this project, but after seeing the look on your mini-astronaut's face as she blasts off into space, it'll be worth the time you spend haunting U-Haul for discards. For more on this inspiring rocket, head over to Kate's Creative Space.
This sparkly ship is as cool as it is easy to make and it's amazing what a little color will do for space exploration! Chelsea Foy of Lovely Indeed provides the step-by-step for an afternoon adventure perfect for a brand-new space explorer (the suggested box is tot-sized). Want to know how to get the steering wheel just right? Head over to Momtastic for the details.
This super-easy tutorial is from friends over at Built by Kids . Have your kiddo setting a course for the stars in just four steps. Packing tape, crayons, scissors and an enthusiastic building partner are all you'll need to get started! Check out the step-by-step instructions by clicking here.
Related Posts